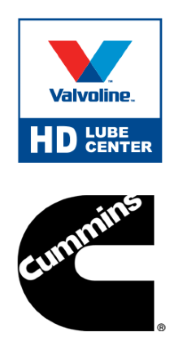 Valvoline™ is proud to partner with Cummins® at their Forest Park, Georgia location providing preventive maintenance services for all makes and models of class 5-8 vehicles and engines.
The Valvoline-Cummins partnership started more than 25 years ago with a joint development of leading-edge motor oil for Cummins diesel engines. Now, the two companies, each with its own legendary heritage, have teamed up to create a preventive maintenance powerhouse. That means unmatched support from both an engine manufacturer and lubricant company when and where you need it most.
Why the Valvoline Heavy-Duty Lube Center?
Preventive maintenance service for your heavy-duty vehicles completed in 75 minutes or less
Convenient scheduling options*
Same-day service! Drop off and pick up your vehicle in the same day
Expert technicians so you know the job is done right, the first time
Located inside the Cummins® Service Center, we proudly service all makes & models of class 5-8 vehicles. We get your vehicles back on the road, so you're earning more, and waiting less.
Schedule your appointment today.
Have Questions?
Location Information:
Address:
5515 Frontage Rd.
Forest Park, GA 30297
Email:
VHDCenter@valvoline.com
Phone Number:
1-888-571-1492
Hours:
Monday - Friday 7:00 AM - 4:00 PM
Saturday - CLOSED
Sunday - CLOSED