The Importance of Tire Rotation
Why Keeping Up-to-Date on Tire Rotation can Save You Money Down the Road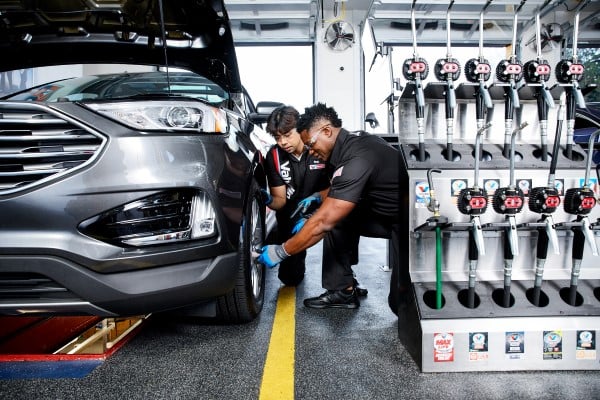 Your tires are the only parts of your vehicle that come into contact with the road. That means it's extra-important to keep them in the best shape you can. Regular rotation will help keep you safer when you drive, and it will ultimately save you money by extending the life of your tires.
What is Tire Rotation?
This one might sound pretty self-explanatory, but then again, some new drivers think "tire rotation" means spinning your wheels on the road as you drive. (No judgment– most of us have been there.) Basically, tire rotation is a service that involves periodically switching the position of the tires on your vehicle. There are several different patterns for tire rotation, but all of them involve moving the rear tires forward and vice versa, as well as crossing at least two tires to the opposite side of the vehicle.
Why is Tire Rotation Important?
Your tires need to have good tread for your vehicle to get the most traction possible when driving. The tread patterns on your tires aren't just fancy designs — they actually help you maintain control in tough weather conditions, on winding roads, and when you need to brake suddenly. When the tread gets worn down, the tires become more ineffective and unsafe.
The more you drive on your tires, the more you wear down their tread. Regular rotation prolongs that process, allowing you to get more mileage out of your current tires. This service ensures that your tires wear evenly, maximizing tread life and giving you a safer and more comfortable ride.
Tires may tend to wear out more unevenly if your vehicle has front-wheel or rear-wheel drive. It's still important, though, to regularly rotate the tires on a vehicle with all-wheel drive. Doing so reduces the strain on the AWD system and minimizes the likelihood of expensive repairs in the long run.
How Often Should You Get Your Tires Rotated?
It's generally recommended that you change your tires every 5,000 miles, but this can vary based on vehicle make and weather. As is the case with any important service, the first place you should check to find the recommended mileage between tire rotations is your owner's manual.
If you find that you're due for a tire rotation, you're in luck! We can take care of all your car's service needs – including your regularly scheduled oil change and other key services – at your local Valvoline Instant Oil Change. Our expertly trained technicians can provide a free consultation and rotate your tires in as little as 15 minutes. That means you'll be back out on the road and driving with more confidence in no time!